Anderson Hall
Anderson Hall is known as "that big round building on campus" with rooms uniquely shaped like pieces of a pie. Because the hallways never end (they're circles), Anderson attracts students who love to stop by their neighbors' rooms just to say hi, and the residence hall has a busy social calendar.
Anderson Hall
Anderson Hall's round shape makes it one of the most distinct buildings on North Park's campus.
Lobby
Anderson Hall was renovated in summer 2012, creating more comfortable common spaces for student use.
Study Room
A quiet study room on the first floor includes large tables, computers, and a printer.
Shared Kitchen
A community kitchen is available on the first floor for all residents' use. This floor also has vending machines and a bike storage room.
Furnished Rooms
All rooms come furnished with beds, mattresses, desks, chairs, dressers, and built-in closets with overhead storage. Stackable furniture allows you to maximize your space for comfort and add your own style.
Blank Canvas
Anderson rooms are a perfect backdrop for creative decorating, and built-in closets and dressers help students stay organized.
Quick Facts
First- and second-year students
All female building
228 residents total
Resident Assistant on each floor
Resident Director lives in the building
Connected to Magnuson Campus Center, across from Burgh Hall
Front desk staffed 24 hours a day
Bike storage room
Vending machines
Community kitchen
Laundry on each floor
Common lounge with big-screen TV, cable, and DVD player
Study room with shared computers, printers, and study tables
Living Floors and Rooms
All living floors in Anderson Hall are identical, with a central elevator, stairways, and lounge with laundry. Each floor also has two large bathrooms with stall showers.
Each double-occupancy room is 16.5' x 11.5' and comes equipped with:
Two beds (XL Twin size)
Two desks with chairs
Two closets with dressers, hanging rod, and overhead storage
Meet the Area Coordinator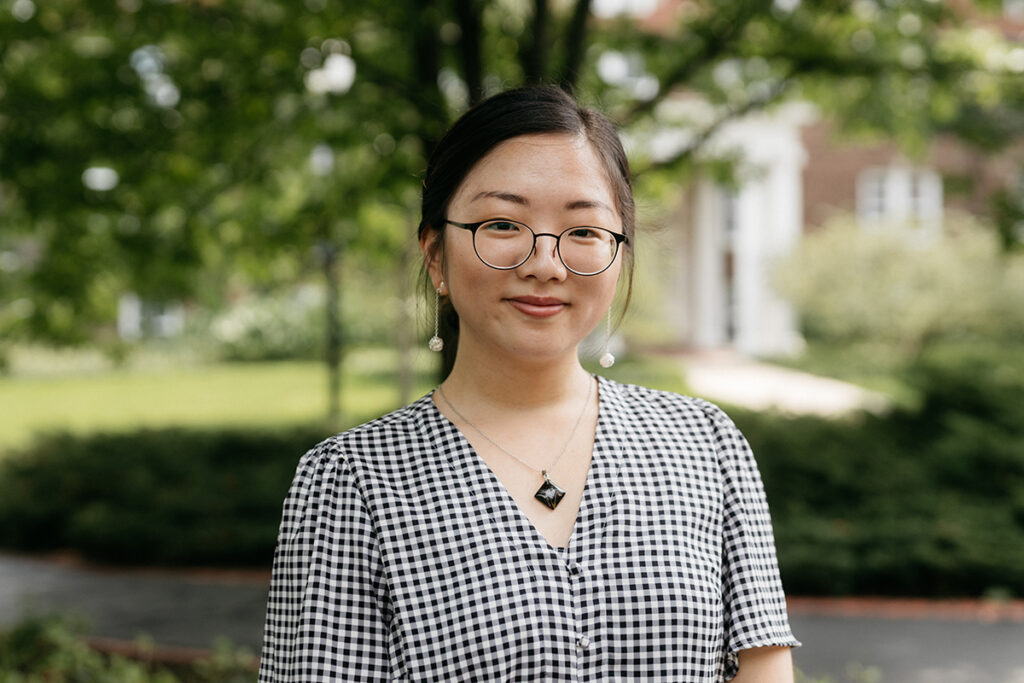 The Area Coordinator (AC) in Anderson Hall is Grace So.
What did you do before coming to North Park University?
I've dipped my toes in a range of fields including documentary production at a local PBS, product management at a software company, and a bit of research at an R-1 institution before finally arriving at North Park. These experiences all seem random and unrelated, but I was following my curiosity for stories and a passion for creating something aesthetically pleasing and practically helpful. Now I hope to create a community on campus that is both enjoyable and helpful while I listen to the myriads of stories that each of the students brings.
What do you most look forward to within Res Life this academic year? 
I am looking forward to getting to know North Park students and hearing their stories. I want to be a kind ear that anyone can feel comfortable approaching when they need someone to just listen. Also, I am looking forward to being able to interact with others in person after a long time of virtual interactions and air hugs!
What do you like to do on your days off (hobbies/interests)? 
I love reading novels or conversing with a friend over a cup of tea. I also really enjoy listening to audiobooks while solving sudoku. Sometimes, I also enjoy baking pretty much anything ranging from banana bread and sugar cookies to sponge cake and French bread.
Anything else your NPU residents should know about you? 
I am a Korean who grew up in Russia, so I may occasionally surprise you by going outside barefoot just to step on the freshly fallen snow or striking a conversation in Korean with an exchange student.