Apartments and Houses
Get a strong taste of independence and exercise your creative, college-budget-decorating skills in North Park's on-campus apartments and houses. These unfurnished abodes are in the heart of campus, with easy access to community activity and are in high demand.
Campus Apartments and Houses
The University owns a variety of houses and apartment buildings used for campus housing in the surrounding neighborhood.
Small- and Large-Group Living
Apartments and houses are all 2- to 8-person occupancies (one gender per apartment or house), and students select who their roommates will be when applying for these residences.
Bring Your Personality
Residences are unfurnished (other than beds and large kitchen appliances), giving students the opportunity to bring their own style and personality to their living space.
Make Your Own Meals
The majority of apartment and house residents choose to prepare their own meals with their roommates, and only eat in the dining hall occasionally.
Indoor/Outdoor Living
Most residences offer some outdoor space, whether it's a back porch or stairwell landing, or a full yard.
Ample Living Space
Many campus houses have ample living space to create peaceful study corners, well-lit lounges, or a breakfast nook.
Classic Features
Many of the North Park residences were once private homes and apartments, and we've retained many of their classic architectural features.
Modern and Updated
Wherever possible, we've updated appliances and finishes to provide a high-quality, modern living experience for students.
Unique Spaces
Thanks to both architecture and student creativity, no two campus residences are exactly alike, and the possibilities for personalization are endless.
Quick Facts
Upper-level men and women
87 apartments, 1- to 5-person occupancy in each
9 houses, 5- to 8-person occupancy in each
Resident Assistant throughout the buildings
Resident Director shared with Ohlson House, Carmen apartments, and all Houses
Most apartments and houses on Carmen and Spaulding avenues
Furnished only with beds, stoves, and refrigerators
Most require shared bedrooms
Each has its own kitchen, bathroom, living area, and bedroom(s)
Building entries secured by electronic lock and apartment keys
Laundry rooms in the basement of buildings
Please note that no dressers, desks, or other furnishings are provided in apartments and houses. Our students are up to the challenge of personalizing their living spaces, and no two are the same!
Meal Plan
Although many apartment residents opt to prepare meals in their kitchens, they are welcome to purchase a meal plan or a punch card through Aramark. In addition, all in campus-owned apartments and houses have the benefit of two meals per week in the dining hall included in their housing fees.
Meet the Area Coordinator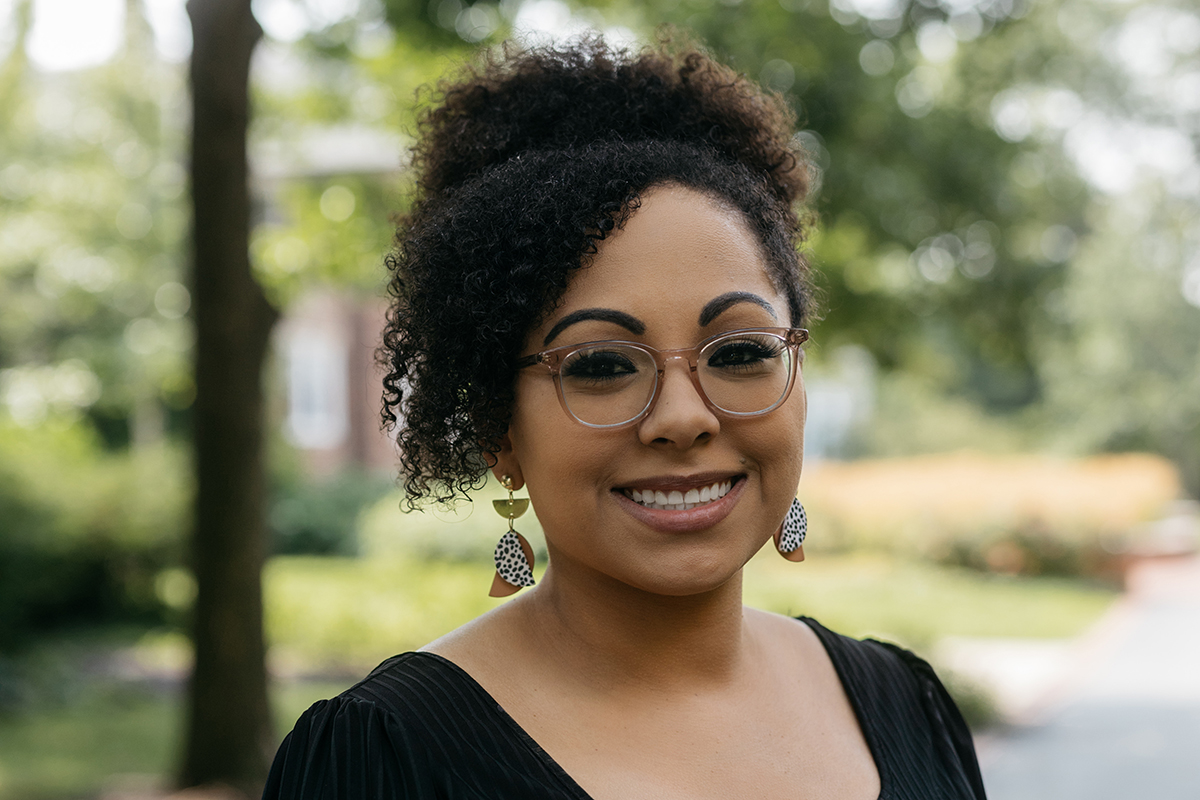 The Area Coordinator (AC) in the Apartments North & Houses is Nicole Wilkins.
What did you do before coming to NPU?
Most recently, I worked as a Residence Life Coordinator of Operations at Indiana University-Bloomington. Prior to that, I lived in Chicago, working as a Residential/Commercial Property Manager & Leasing Coordinator, while also working as a freelance and orchestral musician (Harp).
What do you most look forward to within Res Life this academic year? 
Returning to the city, catching up with close friends, and diving headfirst into the Area Coordinator position at NPU (my alma mater) has been very exciting! I look forward to building relationships (in person) and creating a fun, welcoming & safe environment for students, staff, and residents through exciting and meaningful residential programming & curriculum.
What do you like to do on your days off (hobbies/interests)? 
When I am off of work, I spend a lot of time exploring the city with friends, traveling, performing in (or attending) concerts and outdoor activities (tennis, hiking, kayaking, grilling…). When I'm relaxing in my Ohlson apartment, I'll either be binge-watching Netflix, participating in virtual workout classes, singing, baking/cooking, or completing coursework. It has been fun residing in Ohlson again (my undergrad was at NPU and I lived in Ohlson my freshman and sophomore year).
Anything else your NPU residents should know about you?
Please stop by my office in Ohlson House, pull me aside at an event, find me in the dining hall or HRC, walking around campus, etc. to share ideas/suggestions, questions/concerns, whatever you might need, please come have that conversation with me!