Ohlson House
One of our most unique buildings, Ohlson House started as a Chicago apartment building. North Park has converted it to a residence hall, with rooms that are separated by winding hallways and hidden cubbys. Privacy is a given, but Ohlson House residents work hard to create a strong sense of community and support for one another—including plenty of fun all-hall activities.
Ohlson House
Originally an apartment building converted to campus housing, no two rooms in Ohlson House are exactly alike.
Ohlson Rooms
Ohlson House offers single, double, and triple rooms.
Co-ed Living
One of Ohlson's three living floors is reserved for women and the other two floors are reserved for men, typically sophomores live here.
Furnished Rooms
Rooms come furnished with desks, dressers, and beds, which are movable so each resident can customize their space.
Various Sizes and Shapes
Ohlson rooms come in various sizes and shapes—some have separate sleeping and study areas, others are more open.
Ready to Be Personalized
Residents showcase their personal style in how they decorate their rooms, from adding rugs to posters, the possibilities are as endless as your creativity.
Quick Facts
First- and second-year students
3 floors, 69 rooms
136 residents total
Resident Assistant on each floor
Area Coordinator lives in the building
Across from Anderson Chapel
On the same block as the Campus Postal Center, Health Services, and Counseling Center
Front desk staffed 24 hours a day
Vending machines
Community kitchen
Bike storage room
Laundry room on the first floor
Lobby includes shared printer and desktop computers
Common lounge with a piano, as well as a big-screen TV
Living Floors and Rooms
No two floors or rooms in Ohlson House are exactly alike. Every floor includes a lounge space for socializing or studying, as well as both private and shared bathrooms.
The uniqueness of Ohlson House creates rooms that each have different measurements. View a measurements chart to find information about your specific room. All Ohlson House rooms are carpeted and come equipped with the following furniture items:
Desks with chairs
Wall shelves (six shelves per unit)
Beds (twin XL)
Dressers (three drawers each)
Closets with hanging rod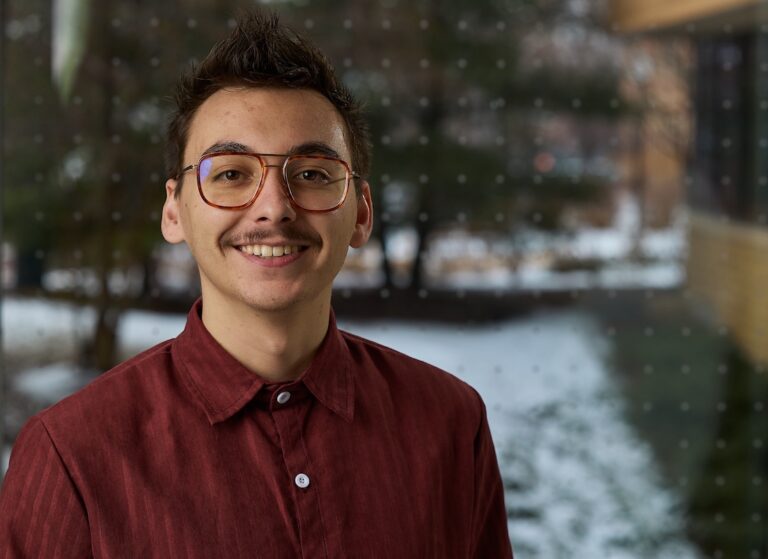 Meet the Area Coordinator
Sam Mariano is the area coordinator for Ohlson House, Carmen Apartments, and Houses. Originally from Ohio, Sam completed his bachelor's degree at Indiana Wesleyan University and two master's degrees at North Park University. After accumulating years of experience in Residence Life, Sam joined the team to continue enriching students' lives with meaningful connections, curriculum-based learning objectives, intentional programming, and city exploration.
What did you do before coming to NPU? 
I was the executive director of a nonprofit organization in Chicago while attending graduate school at NPU. I am originally from Ohio and went to undergraduate at Indiana Wesleyan University where I majored in philosophy, theology, and writing.
What do you most look forward to within Res Life this academic year? 
I am looking forward to being able to weave my personality and leadership into the culture of Ohlson House and the Carmen Apartment and Houses to create a mosaic of experiences, opportunities, resources, and relationships with students and for students.
What do you like to do on your days off?
On my days off I am either decompressing with video games or movies, outdoor activities at the lake, writing in a coffee shop, or exploring one of the many amazing neighborhoods or restaurants the city has to offer.
Anything else your NPU residents should know about you?
I am, in the best sense, a coffee snob so if you'd like a good cup of coffee, I would love to connect you to some of my favorite spots in the city!