The David Nyvall Lectureship was inaugurated in 1951 in memory of the pioneer Swedish American educator who served the school both as teacher and president. The theme of this spring lecture series is the interpretation of the Christian message for the contemporary world.
2019 Nyvall Lecture
The Public Role of the Latinx Church
Rev. Dr. Elizabeth Conde Frazier
Thursday, April 4, 2019
9:00 am–Noon
Isaacson Chapel, Nyvall Hall
North Park Theological Seminary welcomes Elizabeth Conde Frazier for the 2019 David Nyvall Lectures.
The video for this year's lecture can be found online.
Schedule
| | |
| --- | --- |
| 9:00 am | Lecture One: Defining Public Role, Past and Future |
| 10:15 | Coffee Break (Olsson Lounge) |
| 10:45 | Lecture Two: Forming Christians to Participate |
About the Speaker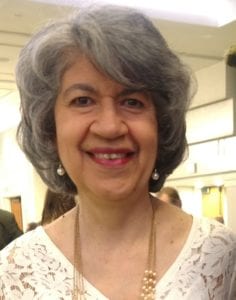 Rev. Dr. Elizabeth Conde Frazier is a practical theologian. She is an ordained pastor of the American Baptist Churches with over ten years of pastoral experience. She was founder of the Orlando E. Costas Hispanic and Latin American Ministries Program at Andover Newton Theological School, served as a tenured professor of religious education at the Claremont School of theology and as academic dean and vice president of education at Esperanza College of Eastern University. Currently, she is the Coordinator of Relations for Theological Entities at the Association of Hispanic Theological Education. Some of her publications are: Latina Evangelicas: Theology from the Margins, A Many Colored Kingdom, Hispanic Bible Institutes, Listen to the Children and numerous chapters on practical theology, and religious education.
Dr. Conde-Frazier holds a Ph.D. from Boston College, an M.Div. from Eastern Baptist Theological Seminary and a B.A. From Brooklyn College, City University of New York.
Previous Nyvall Lectures
2018: Susanna Elm, DPhil, Sidney H. Ehrman professor of European history at the University of California, Berkeley
2017: Amos Young, PhD, professor of theology and mission and director of the Center for Missiological Research at Fuller Theological Seminary in Pasadena, California
2016: Kelly Brown Douglas, PhD, professor of religion at Goucher University and author of Stand Your Ground: Black Bodies and the Justice of God. 
2015: Jennifer Graber, PhD, associate professor of religious studies at University of Texas at Austin and author of The Furnace of Affliction: Prisons and Religion in Antebellum America
2014: Fr. Virgilio P. Elizondo, professor of pastoral and Hispanic theology at the University of Notre Dame, and author of The Future is Mestizo, Galilean Journey, and The Human Quest
2013: Scott Erickson, Nyvall at 150: The Founding President's Enduring Impact at North Park
2012: Ellen T. Charry, PhD, professor of systematic theology at Princeton Theological Seminary and author of God and the Art of Happiness
2011: Miroslav Volf, Henry B. Wright Professor of Systematic Theology at Yale Divinity School and author of numerous books including Exclusion and Embrace (1996), Free of Charge: Giving and Forgiving in a Culture Stripped of Grace (2006), and Allah: A Christian Response (2011)