Mission
The North Park University Writing Center provides free assistance to the university community through our drop-in center, one-on-one conferencing, and specialized workshops for all students enrolled in first-year Core Curriculum courses. Our undergraduate writing advisors (WAs) are trained to respect the intellectual work and linguistic roots of all students. We aim to cultivate writing as a process and promote healthy, coordinated habits for writing and learning while providing a brave space where passion for language can be celebrated.
Hours
The Writing Center is closed for drop-in conferencing until fall semester. For assistance with limited appointments available to work with undergraduate Writing Advisors over the summer, please email mpavlik@northpark.edu. Graduate/SPS students can request a summer writing coach for assistance in any academic writing assignments at any stage of the process by clicking here.
Fall 2023 drop in hours will be offered both in person and virtually according to the following schedule:
Sunday
4:00–8:00 p.m.
Monday–Thursday
10:00 a.m.–12:00 p.m.
1:00–5:00 p.m.
6:00–10:00 p.m.
Friday and Saturday
Closed
Contact
Melissa Pavlik
Writing Center Director and Associate Professor
Brandel Library, room 123
(773) 244-4918
mpavlik@northpark.edu
schedule a meeting 
Antonio Pizarro
Writing Center Assistant Director and Lecturer
Brandel Library, room 017
apizarro@northpark.edu
Writing Center Physical Address
Brandel Library 123
5114 N. Christiana Ave.
Chicago, IL 60625
Online Conferencing
Learn more about remote drop-ins and course conferencing.
We'd love to hear feedback on your Writing Center experience. Let us know here.
Resources
Find writing and learning resources at the links below.
Feather Bricks, the School of Restorative Arts' newsletter, is a collaboration between writing advisors at Stateville and Logan Correctional Centers who are MA candidates, alumni of the Restorative Justice Ministry at North Park Theological Seminary (NPTS), and undergraduate writing advisors at North Park. Special thanks to co-editors Peter "Justice" Lawrence, Tim Giles, and Sherron "Sosa" Dillon as well as senior editor DeCedrick Walker, and outside transcribers and designers Nancy Gorman, Hellen Pava, Hannah Wetzel, Hanna Miller, Azary Celis, Destiny Correa, Priya Bajracharya, and Lily Gerow. Thanks to Stateville GED and Avanced ABE Educator Julie McGrath, EFA Laura Costabile, IDOC Public Information Officer Naomi Puzzello, and much appreciation to NPTS School of Restorative Arts for providing a space for students to project their voices. Read past issues here:
Volume 1| Volume 2 | Volume 3 | Volume 4 I Volume 5 I Volume 6 Volume 7 I Volume 8 I Volume 9 I Volume 10 I Volume 11  Volume 12 I Volume 13 I Volume 14 I Volume 15  Volume 16   Volume 17 Volume 18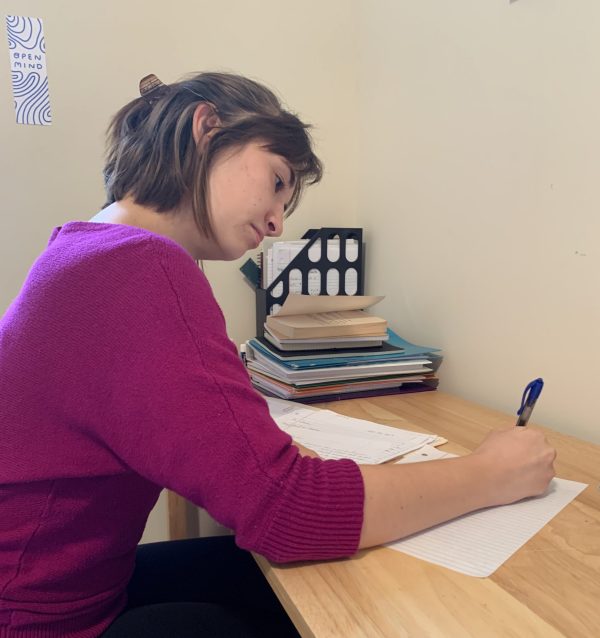 Alumni writing advisor Darby Agovino reflects on her experience working at North Park's dual-campus Writing Center, staffed by and serving both students at Chicago's North Park campus and Crest Hill, Illinois' Stateville Correctional Center campus.
Meet Our Writing Advisors and Staff
To serve you, the Writing Center has a community of more than 90 undergraduate writing advisors, professional writing coaches, and graduate writing advisors across our North Park, Stateville Correctional Center, and Logan Correctional Center campuses.